E-waste and Recycling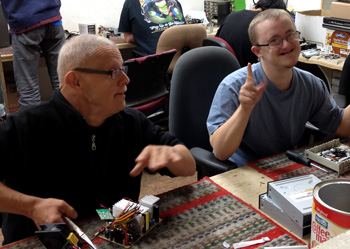 According to Environment Canada, 140,000 tonnes of e-waste is dumped annually in Canadian landfills. Equal Opportunities West's (EOW) goal with our e-waste and recycling program is two-fold - help keep Manitoba's environment clean and safe, while helping individuals with disabilities find meaningful work. We are a not-for-profit charitable organization supporting community members with disabilities and our electronics recycling program provides employment for our participants. In fact, since our recycling initiative started, the people in our program have been vital in recycling more than 200,000 pounds of e-waste annually and more than 300,000 pounds in 2018. In addition to that, EOW was certified as an Electronic Products Recycling Association (EPRA) depot in 2015.

We accept old computers, hard drives, and other electronic items that might be sitting on a shelf somewhere collecting dust. Once a person or business donates an item, the people involved in our program get to work breaking down each device, stripping wires, removing screws, dismantling circuit boards and seperating aluminum, metal and plastic. Once the materials are separated they are sent to Urbanmine, a local scrap metal facility that pays for the parts. Each individual who works in the e-waste program receives a portion of the money in the form of a paycheque.

For those that receive only basic assistance, this money allows them to top up their food bill, have the option to go see a movie, buy new clothes, or pay for whatever special activity/item they choose.

Not only does the program offer meaningful work to individuals, it also acts as a physiotherapy tool, helping them develop and improve their fine motor skills.

EOW continues to actively seek donations/contributions of e-waste from businesses and the private sector to ensure these busy hands keep moving.
We gratefully accept donations of the following items
* Computers, laptops, all printers and peripherals
* Photo copiers, fax machines
* Monitors, flat screen, tube
* TV sets, flat screen, tube
* Home electronics, games, stereos, amplifiers and speakers
* Small kitchen appliances, microwaves, mixers, blenders, toasters (not refrigerators)
* Vacuums
* Power tools and electric motors
* Car and household batteries
* Laptop batteries
* Phones and cell phones
* Hair dryers
* All metals and metal objects including aluminum cans
* All cables and wires

Due to government and safety restrictions we cannot accept items containing Freon, including air conditioners, refrigerators and light bulbs
If you have any questions about other electronic items you think might fit the bill, feel free to email us at info@equalopportunitieswest.com, call us at 204-888-5422. You can also drop by either of our two locations:
* 851 Cavalier Drive: Monday to Friday - 9 am to 2 pm
* 3570 Portage Avenue: Monday to Friday - 9 am to 2 pm
No pick-up service available