EDP Winnipeg Success Story - Sam Graham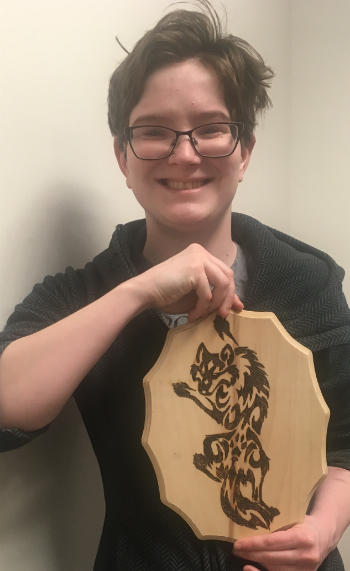 Sam Graham discovered wood burning in middle school. It was an activity that quickly became a passion for the 22-year-old, who operates Graham Custom Wood Design.
"I enjoyed it and wanted to do a business with it," she says. "I go to craft shows and see the stuff that other people make, and I think 'I want to do that.'"
Some of Sam's previous work includes a piece of wood with a wolf burned into it that now hangs in the Equal Opportunities West building. She can burn Jets logos, butterflies and anything else you can think of into pieces of wood of various sizes.
Sam says in addition to being something she enjoys, wood burning also brings a sense of peace to her life.
"I love it," she says. "I love the smell of it, and I have high anxiety so it calms me down. It soothes me and instead of being stressed I can zone out and do my own thing."
Email samgraham1996@gmail.com to book your custom wood design!
*Sam works at Equal Opportunities West and is involved in the Entrepreneurs with Disabilities Program.*
Added: Tue April 9th 2019